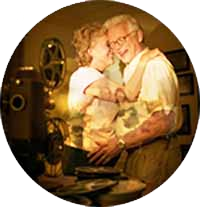 Where are your home movies? These visual records of the most important happenings in your family are probably stored in the back of a closet somewhere. You would love to see them again, but you don't even have a projector or VCR anymore, or you're afraid that the film or tape will be damaged after all this time.

Your precious memories on film, slides, pictures, video tape, or audio recordings can be transferred to DVD, Blu-ray Disc, CD, Hard Drive, USB Memory Stick or videotape. All transfers are done in house. You can even commission multiple copies so everyone who treasures these cameos from the past can share in the enjoyment.

We are a state-of-the-art facility. Our digital equipment provides you with the cleanest and most accurate transfers available. We can also help you with your Regular-8, Super-8 (silent and sound both optical and magnetic), 16mm silent, 16mm sound (both optical and magnetic), 9.5mm, 35mm videotapes, or slides and pictures to DVD or Blu-ray Disc in addition to audio recordings. Click on the buttons above for more information on our film transfer and video transfer services.
Hours for people in the San Antonio area are by appointment only so we can work with you on your transfers. Same day appointments are usually availabe. Transfers outside San Antonio can be securely shipped to us.